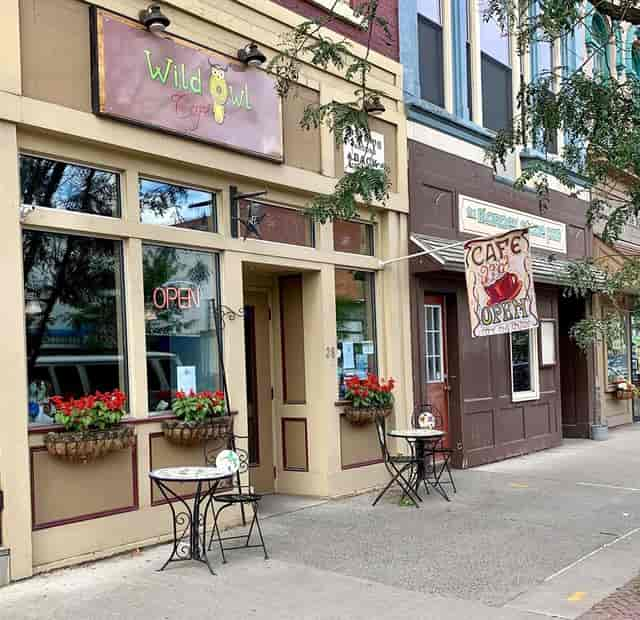 Meet Our Staff
Co-Owner & Front of House Manager

In May 2015, Stoyana moved to America and met co-owner Michael La Croce working at Water
Safari in Old Forge, Upstate New York. Wild Owl Café opened in 2016.

Stoyana says she came to America because she was driven by the American dream and the
journey to that dream. She says so far, her favorite thing about America is the ability to choose
your destiny! In this country, Stoyana adds, we have the rights to achieve ANYTHING if we put
our minds to it.

Before moving to America, she attended college for Business in Bulgaria and Austria.

Hobbies: Stoyana doesn't really have any hobbies and is able to save a lot of money toward her
goal to retire at thirty!

Favorite Dish: Try one of the several Bulgarian menu options we serve!
Co-Owner & Back of House Manager

Mike grew up in Chenango County, graduating from Oxford High School before attending
Morrisville State College where he attained an associate degree in Casino Management and a
bachelor's in Business with a concentration in Hospitality.

Since graduating college, he has been a part of 3 other restaurants. In 2016, Mike and Stoyana
decided to leave Hoppies in Oxford, NY to open a non-seasonal restaurant with a broader scope
and menu in Norwich – creating the Wild Owl Café.

Hobbies: He enjoys traveling to different parts of the United States and hopes to travel more
aboard in the future to experience different cultures.

Favorite Dish: Any of the Abeetz! Did you know…When early Italians came to America they
had very heavy accents and when they said "a pizza" it would sound like "abeetz!"
Cook/Front of House

Alia has been part of the owl team for 2 years. She has worked in several positions in the
restaurant in both front and back of house. You most likely see her at lunch running between the
front and back of house with food and cooking in the kitchen, but she also preps food for the
restaurant as well.

This girl graduated High School at sixteen years old, she's extremely hardworking, loves
learning new things and very humble.

Hobbies: On her free time, she loves painting and kayaking. She has actually been in a few art
shows.

Favorite Dish: Buffalo Abeetz
Server

Jourdan has been with Wild Owl Café for over 2 years starting with us as a student with Oxford
Workbase Learning Program. Due to her work ethic we kept her as a part of our team, she
worked hard and was promoted to a server.

Jourdan loves working with the guests and community that become more like family than
customers.

Hobbies: She is a sophomore at the SUNY Morrisville Norwich Campus studying Criminal
Justice and she enjoys spending a lot of time with her family.

Favorite Dish: Mac N Cheese
Lunch Cook

Sean has been with Wild Owl for almost 3 years and really enjoys the opportunity to work "at
one of the better restaurants in town."

Along with daytime cook, Sean also does prep for the day (which includes hand tossing the
Mozz Mozz and setting up the Salad Bar). He is also one of our main delivery drivers.

He is married and has two kids, a daughter and son.

Hobbies: Sean enjoys being outdoors. He enjoys doing construction projects for others.

Favorite Dish: Any of the Abeetz
Server

Diana has been with Wild Owl Cafe for three years. She mainly works lunch on the weekdays,
serving the front section with a smiling face. Something interesting about Diana, her birthday
falls on Christmas Day!

Diana has and is very much thankful for her husband and her 4 grown kids that she still gets to
visit since they are in the area.

Hobbies: She loves to read, visits with friends and family, and of course, drinking coffee!

Favorite Dish: EVERYTHING! She loves our choices!